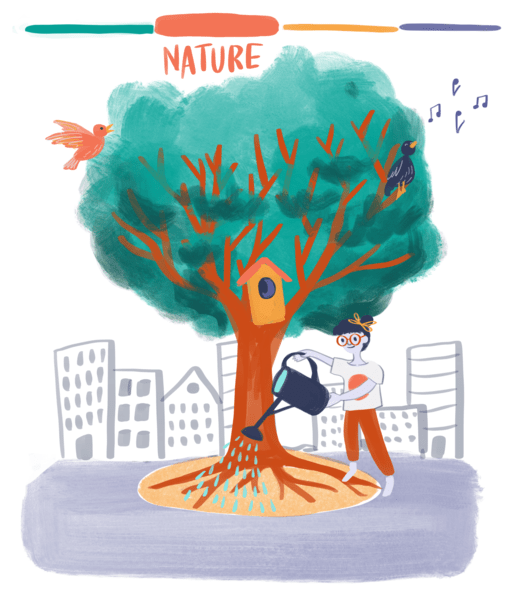 Nature creates living and breathing cities
#Nature
In sustainable and just cities, nature-based planning is central. Rewilding initiatives, permaculture, biodiversity and continuously productive urban landscapes intersect with social and economic initiatives. They are designed with and around blue and green infrastructure, and aim for enhanced resilience. Urban nature provides shelter to flora and fauna, which, in turn, people use and enjoy. Natural infrastructure helps reduce hazards like urban heat islands, and this infrastructure is implemented and maintained in a way that supports the most vulnerable neighbourhoods. Harmful and polluting industries are scaled down and the use of cars is significantly reduced in order to allow human and non-human life to thrive.
Inspirational example
Preventing floods with a stormwater park, Malmö (Sweden)
Inaugurated in 2020, the Dagvattenparken (Stormwater Park) in the Hyllie district of Southern Malmö combines green and blue infrastructure in a rapidly growing city. 
The park provides a stormwater reservoir for more than 6,600 m3 of water, which is much needed due to heavier rainfalls in the last few years. The scenic park, with its pedestrian and bicycle paths, a bridge to look over the treetops and meadow also serve as an oasis for the local habitants. The surrounding city is characterized by its young, diverse, multicultural and growing population, but also by its increasing densification. The rainwater park is an effort to simultaneously incorporate more nature into an urban area, manage the impacts of climate change and address equal access to nature in a dense city.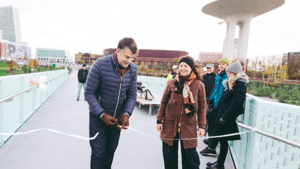 Avenues for action
You might be wondering, what everyday actions can I take to put all this theory into practice? Take a look at the avenues for action, below, for some practical guidance.