Inclusion starts by embracing diversity
#Diversity
Sustainable and just cities recognize and acknowledge diversity, analysing the real and diverse needs of all residents through an intersectional approach. Intersectionality helps city-makers understand combined inequalities based on the different identities and characteristics of a person or group. In a sustainable and just city, for example, a policy working to make greener areas safer for women examines not only gender-based inequalities, but also the influences of race and class. Such analysis is the basis for local policy solutions that lead to inclusive, people-centred and carbon-neutral cities.
Inspirational example
Celebrating diversity via food, Ljubljana and Graz
In 2020 in Upper Austria, a number of participants came together for two cooking classes. However, these were not classes to teach how to make Wiener Schnitzel or apple strudel; instead, participants learned about the secrets and histories of Bosnian and Arabic foods, and co-created wonderful meals.
This is the activity that took place as part of the Urban Diversity project, which aims to stir the creativity and improve the economic performance of small- and medium-sized companies and enterprises led by migrant entrepreneurs in Ljubljana (Slovenia) and Graz (Austria). The project highlights the presence and creativity of migrant entrepreneurs while also promoting intercultural understanding, openness and tolerance, facilitating their integration into the local community. Projects such as Diverse Cities not only promote the work of ethnically diverse individuals and enterprises, but contribute to the meaningful empowerment of individuals from varied origins, deepening and enriching the everyday representation of their cultures and histories.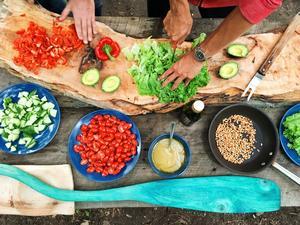 Avenues for action
You might be wondering, what everyday actions can I take to put all this theory into practice? Take a look at the avenues for action, below, for some practical guidance.